Water activities in Mayotte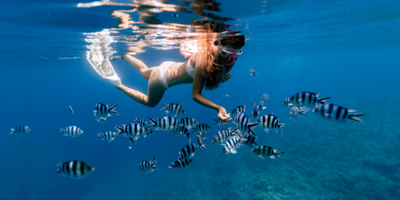 Between its beaches and its lagoon, there is no shortage of places to practice many activities. So, don't forget your masks, snorkels, and flippers to discover the wonders that abound underwater. The best season for these activities is between April and November.
Many water activities are offered in Mayotte such as:
Snorkeling
There are many great snorkeling spots in Mayotte where the water temperature is on average 24 C. Thanks to its lagoon in which many species take refuge, you may have the chance to see clown fish, rays, turtles or maybe even dugongs, cousins of the manatee. 
Canoe and Kayak
For those who like to discover their environment by boat, professionals are available to propose excursions in canoe or kayak in full safety. 
Diving
There are many diving centres where you can discover underwater wonders: harlequin shrimp, frogfish, ghost fish, turtles and other wonders. Accompanied by professionals, all levels can take pleasure in discovering diving spots around Seahorse Island. Some clubs even offer night dives. Find out more!
Jet ski
Jet skiing in the lagoon will leave you with unforgettable memories. Local professionals will guide you in how to use a jet ski to enjoy a spin around the lagoon in complete safety. 
Boat trips
Many professionals offer excursions to spots to see  dolphins, whales or even rays. These excursions will also allow you, for the most part, to enjoy a nice dip and a snack that will open you to the culinary pleasures of Mayotte. 

Get in touch with the local professionals. The tourist office is full of information about service providers who offer unforgettable experiences. 
Perhaps you will have the chance during your boat trips to see whales or dolphins.
During your sea outings, enjoy the beauty of the local fauna while respecting it by not getting too close to the animals that will approach you so you can keep the best memories.