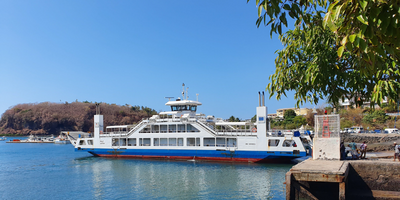 Mayotte does not have a bus-type public transport network. Given the variable state of the roads from one municipality to another, small vehicles are very popular with the people of Mayotte (tourist cars or scooters). 
The Mayotte barge is absolutely a must
A real institution in Mayotte, the barge provides the link between Grande Terre and Petite Terre. A service provided by ships that can carry up to 580 passengers (excluding vehicles), the Mayotte barge provides transport for people, goods, and vehicles. 
The barge is used on a daily basis by many Mahorais. It's obligatory for anyone arriving from the airport, wishing to go to Grande Terre and in particular to Mamoudzou, the economic heart of Seahorse Island. 
Managed by the Departmental Council, the service is provided by the Maritime Transport Service. 
How long does it take to cross between Grande Terre and Petite Terre?
It takes 15 minutes to cross from one to the other. 15 minutes during which you will have the opportunity to admire the mangroves, the lagoon, and sometimes you may be lucky enought to see turtles and local species of birds. 
However, during the rainy season, the crossing is less comfortable.
How much does the barge crossing cost?
The prices of the barge are different depending on whether you are by foot, bicycle, car, or truck. 
Pedestrian: €0.75
Motorcycle or scooter: (<125cm3): €2
Motorcycle or scooter (>125cm3): €3
Passenger car: €15
What is the barge's timetable?
The barge provides the link between Grande Terre and Petite Terre from Monday to Sunday as well as on public holidays.
During the day, trips are carried out every 30 minutes. Evening trips are every hour. 
To be informed of timetables and traffic information, go to the Mayotte barge website.  
http://info.barge-mayotte.com/info-trafic
Now when you hear "I'm going to barge" or "I'm barging", you'll know what it's all about. 
The City Taxi
Serving mainly Mamoudzou and Petite Terre, city taxi services are offered for an average day rate of €1.20 per person. The City Taxi is not an individual taxi but a collective taxi. 
The Bush Taxi
The Bush Taxi is there to ensure connections to the more distant municipalities of Mamoudzou. Bush taxis are minibuses that  only travel outside of Mamoudzou. Be careful, bush taxis do not run on a fixed schedule. They leave when the driver feels that his vehicle is sufficiently full. 
Rent a car in Mayotte
You can also decide to be more autonomous in your travels and rent a car in Mayotte online.